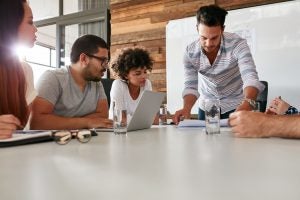 When creating a marketing campaign, the most important question you can ask yourself is "What do I want to accomplish with this campaign?" A good rule of thumb is to create a SMART goal for your campaign. SMART goals are: Specific, Measurable, Achievable, Relevant, and Time-Based guidelines that will guide your decisions throughout creating a campaign.  
Your SMART goals should look something like these: 
"In four months, we will see a 15% increase in sales leads from the monthly E-Newsletter by featuring products that have high search rankings. These emails will include a "request sample" button in every email." 
"Sell 5,000 gallons of coconut oil by December 31st with our new 4th quarter sales promotion that targets personal care and cosmetics formulators." 
"Find and contact 30 new clients in the plastics industry each quarter through the use of the lead generation platform, UL's Connect." 
Ask the right questions: 
Once you've outlined your business' goals for the upcoming year, it is time to define how you will reach your goals by asking yourself questions about each individual goal. For example, if your original company goal is to "Sell 5,000 gallons of coconut oil by December 31st" ask follow-up questions like: 
What time of year do we get the most searches on coconut oil? 
What industries typically buy coconut oil? 
Who has recently requested samples of coconut oil? 
Once you've asked relevant questions, you can turn them into specific and measurable metrics. These metrics are data points that can be measured to see how well you are performing against predetermined company goals. Make sure to assign at least one metric to each goal you have. 
For example, if you're selling coconut oil to the personal care and cosmetics market, you may want to measure: 
Number of users who requested samples 
Number of companies that viewed your technical data sheet  
Number of views of your coconut oil product in North America over the last six months 
Once you've determined your metrics, you can utilize metric measurement tools to apply the findings to your company. 
How to track your goals:  
Data and analytics tools can be a crucial asset to your business. These tools provide information to help you better understand your current and potential customer's buying trends – and gives you a competitive advantage when selling raw materials. 
What if you knew exactly which employees at certain companies had viewed your product documentation or requested an example online? This information could be used to re-target these customers with digital ads. What if you could see a rise in demand for polyamide resin in America in real-time? Maybe you would make sure to put content about polyamide resin in your monthly E-Newsletter.  
These would both be critical pieces of information for your marketing and sales teams. Luckily this data can be available to you by using the right tools. 
Choosing the right tools: 
Using a data analytic platform that enhances your knowledge about consumers can be vital to your sales and marketing strategies. Two of the most popular analytics platforms for the chemical and raw ingredient industry are Google Analytics and UL's Connect. 
If you're looking for general analytics about what pages and products are being viewed on your website, Google Analytics may work for you. However, if you're looking for detailed insights on companies and individuals searching your chemicals and raw ingredients or finding trending chemical and material searches, consider utilizing an industry-specific analytics tool like UL's Connect.  
By utilizing SMART goals and analytics tools, you're ready to begin successfully running and tracking your raw materials marketing campaigns. 
Want to learn more about turning data into actionable plans? Browse the free E-Book Converting Data into Action.