A fundamental goal of sales and marketing professionals in the chemicals industry is to reach decision makers at the point in time they're ready to purchase. For materials suppliers, this has become increasingly more difficult because product formulators, R&D professionals and engineers have more options than ever when making a purchase. With relatively minimal effort, a decision maker can find a wealth of material options and alternatives online. And because it's easier to research, professionals usually consider multiple suppliers prior to making a purchase decision. When selling chemicals, it's important for sales and marketing professionals to understand when, where and why product formulators and engineers are researching materials. By better understanding how to sell chemicals in a way that meets your customers' needs, you can create and win more sales opportunities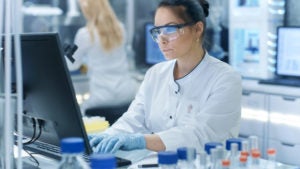 At Prospector®, we help connect hundreds of thousands of R&D professionals and engineers with material suppliers who are selling chemicals. Along the way we've gained insights into the purchase journey of these professionals, and we found that the increase of available material options has changed the way manufacturers research and buy. When we surveyed professionals who use ULprospector.com for material research, we found the majority consider three to five suppliers prior to making a purchase decision. This finding was true across all industries and all departments involved in decision making.
In a world of increased options, here are four ways to help ensure you are one of the three to five suppliers considered by R&D professionals and engineers formulating products.
Make sure that your products can be found where your customers are researching their material options.

Because most research starts on the web, getting in front of new customers requires knowing how to sell chemicals online. This includes expanding your online presence beyond your own website. By optimizing for organic search both on and off your own website, you increase the potential for new customers to find your products. According to our recent survey of professionals responsible for researching material and ingredient options, their top three resources which are used on most or every project are:

General Search (Google, Bing, Baidu, etc.)
Supplier Website
Industry Search Engine (ex. ULProspector.com)

Note: Plastics professionals are even more likely to use industry search engines than other industries

Takeaway: Because search engines and your webpages are such a popular way to research material options, make sure that your content is optimized for SEO and ensure your technical information is up to date on popular industry search engines.

Know which trends cause companies to develop new products and reformulate existing products.

Knowing how to sell chemical products requires a good understanding of the chemical industry and trends. There are many factors that can cause a business to reformulate their products, and businesses frequently consider new suppliers and alternatives when this happens. Because this can create both risk and opportunity, it is important to stay informed. The top trends that prompt R&D professionals and engineers to research alternative products are:

Increasing Regulations
Raising Material Costs
Changing Technology

Takeaway: When any of these trends impact your customers, you may want to increase your marketing and sales efforts to capitalize on the opportunity. Or you may need to shift your product strategy and focus to protect your current chemical sales.
Subscribe to industry newsletters to stay informed of trends that are impacting those purchasing your materials and ingredients. The Prospector Knowledge Center is one resource for industry specific news stories.

Capitalize on opportunities for your materials and products.

What unique characteristics do your materials offer that similar ones cannot?
Have there been recent improvements to your products?
Are there certain times of the year when your materials and products are purchased more frequently?
Takeaway: Make sure that content about the chemicals you are selling clearly showcases the features that make your materials and ingredients unique. Focus on content on your website as well as content on popular search engines. Also, ensure that your marketing and sales efforts align with any seasonality trends for your products.

Identify and engage with potential customers that are actively researching your products.

When someone engages with your technical data on ULprospector.com, you can receive their complete contact information through UL's Connect. User contact information is verified and validated regularly to help you reach potential customers who are expressing interest in your products. Insights and qualified sales leads are sent to you in real time and can be accessed from any internet-connected device.
Takeaway: Thousands of industry professionals are actively searching for new raw materials and suppliers on Prospector. Empower your sales and marketing teams with actionable insights to fill your chemical sales funnel with Connect.
It is essential to get in front of decision makers when selling chemicals, and it is equally important to understand their needs and buying journey. By knowing how they are researching and selecting materials, you can invest in resources to create new chemical sales opportunities.