Authored by Louis Chavez, Principal Engineer (PDE)
Perimeter security is a concept that many facilities use to deter unauthorized access to a protected premise. To effectively protect specific assets, perimeter security often uses a layered approach based on a security vulnerability assessment. Access control systems that are integrated with automatic gates and door operators allow for the convenience of opening gated portals to enter facilities. Electronic access control systems ensure that only authorized and credentialed users can gain access to the protected premises. By pairing certification to the UL 294 and UL 325 Standards, both safe access control and security can be achieved for an integrated access control door and/or gate operating solution.
The primary safety standard for automatic gates and door operators is UL 325, Standard for Safety of Door, Drapery, Gate, Louver, and Window Operators and Systems.  However, UL understands that some products, applications or markets also require assurance of access security.  Under UL 325, the access control features associated with a gate are not evaluated relative to physical or cyber security. When security related safety, digital security and performance evaluations are needed in addition to operational functionality, UL 294, the Standard for Safety of Access Control System Units, is the ideal solution and a perfect complement to a UL 325 safety certification. Together, the two standards simplify the certification process for manufacturers by allowing all testing to be done at one time, by one globally respected organization. Paring the certifications allows manufacturers to enjoy all the benefits of UL 325 safety certification with the added efficacy of a UL 294 security certification.
The 7th edition of UL 294, dated Jan. 31, 2017, provides manufacturers more flexibility than ever.  The tiered structure of the 7th edition offers four distinct performance levels (Level I-IV) for physical/destructive attack testing, encrypted communication line security, operational endurance cycling and standby power levels. This structure recognizes the different uses associated with various market needs and security applications, and makes it easy for manufacturers to add a UL 294 certification to their applicable UL 325 certified products.
To illustrate how the two certifications overlap, think of a gate at a commercial facility or a gated homeowner community. Typically, this gate must be tested and certified that the electric operators function as planned (UL 325), but the access control system including card readers, scanners, keypads, communications links and even biometric readers must also demonstrate that security can be appropriately maintained through an assessment of security vulnerabilities (UL 294).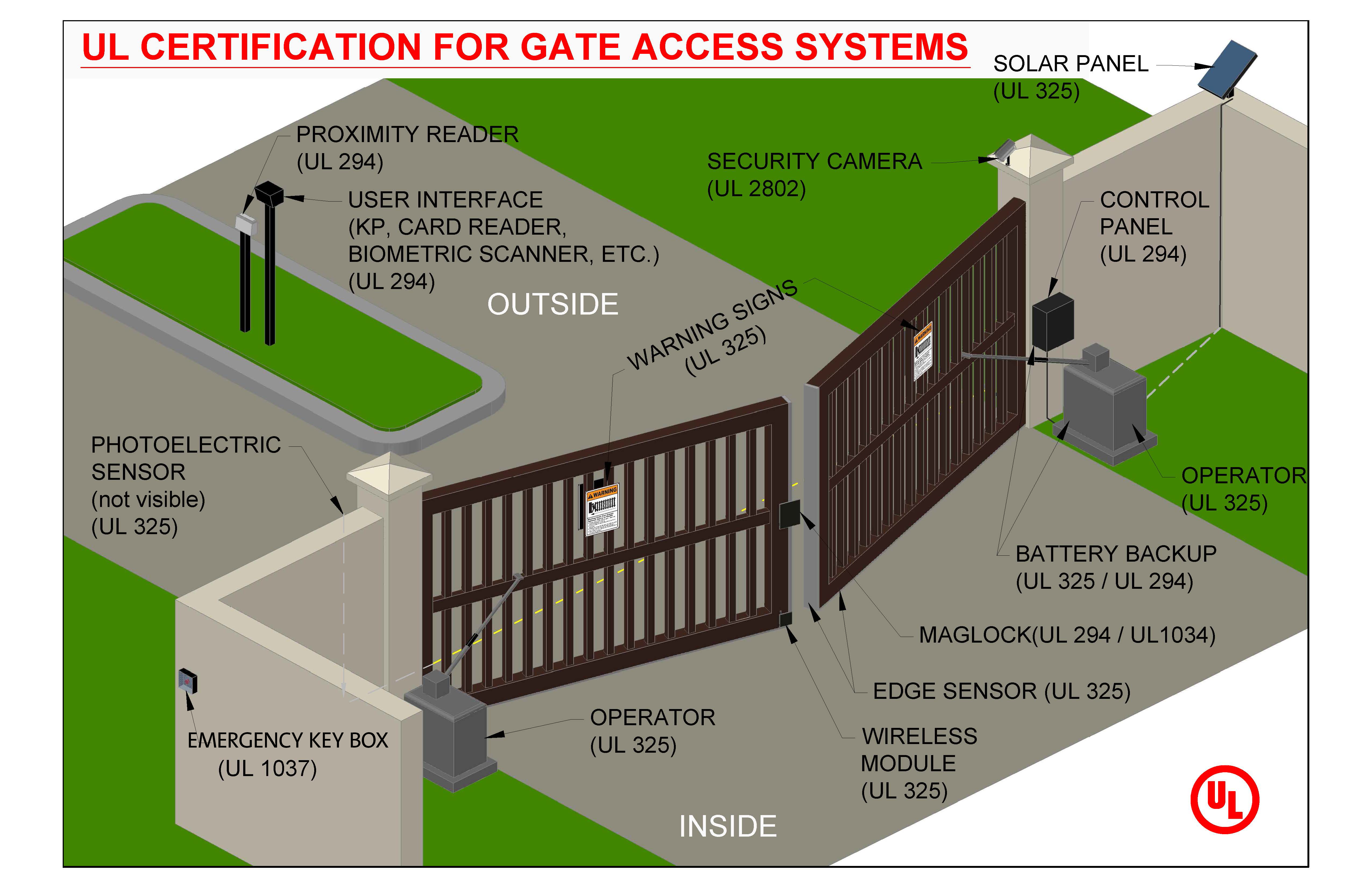 The 2018 International Building Code (IBC) Chapter 10 (Means of Egress) requires that special locking devices such as controlled egress doors and delayed egress locking systems be listed to UL 294. The IBC defines life safety requirements for these devices such as automatic release in case of a power failure or upon activation of an automatic fire alarm system. The requirement for listing to UL 294 is intended to help ensure the safe performance of these special locking devices.
Internet of Things (IoT) connected devices and system software may also benefit by applying the requirements or UL 2900-2-3, Software Cybersecurity for Network – Connectable Products, Particular Requirements for Security and Life Safety Signaling Systems. Additionally, surveillance cameras used to monitor protected premises can benefit by measuring image quality efficacy in accordance with UL 2802, Standard for Performance testing of Camera Image Quality.      
UL has spent more than a century building expertise in the areas of product and service safety, performance, and reliability testing in numerous global industries. The door and gate industry are no exception and UL remains at the forefront of the technical and regulatory advancements that continue to evolve within the industry itself.
For more information regarding UL 294, 2802, 2900-2-3 and UL 325, please visit www.UL.com/securityproducts.