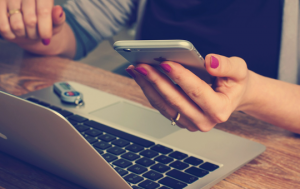 Spotlight Ads are the most prominent media placement in the UL Prospector® newsletter. To best capitalize on this prime real estate, there are some finer points to consider.
Use images
Images are a great way to draw attention to your Spotlight Ad. Using an image that relates to the overall message can help get your point across before a user even has a chance to read anything.
Remember, it's Digital Media
Unlike print media, digital media has to take into account a user's email preferences. Is the user viewing the newsletter on a desktop or a mobile device?
Many digital newsletters are responsively designed to give users an optimal experience based on their platform preference. Spotlight Ads are no different. When images are viewed on mobile devices, the size is reduced, which can make text embedded on the image hard to read. Keeping the text and images separate when designing and building your ad can improve visibility on mobile devices and will also ensure that your message is seen.
Optimize your text
The Headline
Headlines should summarize the ad in a succinct sentence. Consider creating a headline that is similar to a headline of a newspaper
The Body
The body of the Spotlight Ad contains the bulk of the ad's content. Once your headline has captured the attention, it's the body's turn to support your claim.
Don't give it all away. Spotlight Ads catch the eye because they are big and prominent. Since there is a captive audience, the main goal is to get the user to click on the ad. Those clicks generate lead activity which is then reported to you and your sales team.
Highlight key message points. Separating your product or service from competitors can be difficult with such a limited space. Using bullet points is a great way to communicate a lot of info in a small space.
The Call-to-Action (CTA)
A Spotlight Ad has one main purpose: to encourage a user to engage. Do you want the user to learn more about a product or service, register for a webinar, request a sample, view a video, or download a brochure? A clear CTA helps wrap up your ad in two to five words and offers the next step.
Use links
The benefits of using UL Prospector links
If you want to advertise a product, it's best to link to the product profile page. A product profile page lists out all of the documents related to that product, including brochures, sell sheets, and even videos. Linking to the product profile page maximizes your potential for activity.
Make links obvious
The best way to get a potential customer to click a link is to make it obvious that it is actually a link. Usually hyperlinks are underlined, a different color from the other text, and possibly in bold face or a larger font. Textual cues draw the eye to the link and helps it stand out.
Primed to sell
With the correct combination of imagery, intriguing headlines, persuasive text, and a clear CTA to bring it home, a Spotlight Ad can be a powerful tool in your engagement arsenal. For more information on Spotlight Ads and other newsletter advertising options, please visit the Prospector Newsletter Advertising page or contact us at [email protected].