One of the fundamental goals for sales and marketing professionals is generating leads that are likely to purchase.  However, the development of qualified leads in the chemical and plastics industries includes many challenges, such as a long sales cycle, multiple decision makers weighing in, and catering to niche markets.  Additionally, lead generation in these industries has evolved over time, largely due to the fact that consumers can now conduct their own research on products.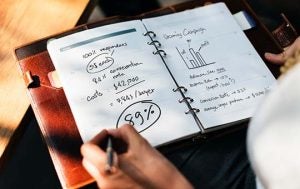 We recommend two strategies to generate warm product developer leads:
Ensure you have adequate product information in locations where product developers are conducting material research
Develop a content marketing strategy to generate interested, inbound leads.
Leverage material research websites
Finding product developers, formulators and engineers who are not only qualified to purchase materials but are actively looking for materials will increase the likelihood that a lead turns into a purchase. We recommend highlighting your products on ULProspector.com, which 350,000 industry professionals use to find, compare, and source materials and technical information. Because customers frequently use sites like ULProspector.com to conduct their own research, showcasing your product and industry leadership on the site can help you generate new leads. At a minimum, ensuring your products have robust product profiles means that professionals viewing your products are receiving the information they need to make a purchase decision. Learn how to optimize your product profile pages.
Develop a Content Marketing Strategy
One of the best strategies for generating leads is to practice content marketing. Here are some ways to develop a successful content marketing strategy:
Create content that provides solutions to your consumers. By publishing original, interesting, and useful content, potential buyers will be drawn to you. Showcase that you are a leader in your industry and can offer unique perspectives.
Conduct keyword research and keep keywords in mind. Consider your audience, their needs, and the type of content they search for. Keywords can boost your SEO and drive more traffic to your content pages.
Repurpose your content. Not only will doing so save you time, but by repurposing your most popular content, you can drive traffic to other pieces, too. Overall, repurposing is a great tactic to expand your presence online, especially as readership of text-based content declines.
Incorporate email marketing to drive traffic to your content. Integrating these two forms of marketing will drive business results and help you build a customer base and gain new customers.
Track your success. By utilizing data and metrics about your content traffic, you can find insightful information about your audience and what interests them. Resources like Connect allow you to observe how many people view your product information and request samples (in applicable industries).
We recommend sharing content on your website as well as on sites like ULProspector.com. According to our recent survey, product developers use sites like ULProspector.com just as frequently as supplier websites to conduct material research.  Placing content in both places will extend your reach.
Have these strategies worked for you? We'd love to hear about it! Email us at [email protected]