The UL Prospector® Profile Page houses all technical documents for a product on Prospector. It is the most critical part of your listing and will impact your ranking on Prospector and general search engines.  Ranking high on a search results page will lead more users to view your product. The content and data you provide on your profile page will help users find your product with ease while searching on Prospector. To put this into perspective, a study on Google found that the first page of search results gets 71% of traffic clicks (Forbes 2017). Your products should rank at the top of the search results list for maximum visibility.
A Breakdown of the Profile Page: The Prospector Profile Page is essentially a summary of all technical data on your product. Think of it as a resume–it gives a comprehensive summary about a subject but not the confidential details. Like a resume, your page should be succinct and descriptive, but should not overwhelm the viewer. Here is a look at the key fields on the Profile Page:
Product Name(s) – This field should be the trade name for your product. Depending on the industry, there are additional fields where you can include INCI and CAS numbers. The product name is limited to 150 characters.
Description – The description section has a 500-character limit. A robust description is critical to informing customers what your product does. Make sure you clearly explain what your product is, how it works, and why it is unique. Learn more about writing great descriptions by reading 8 Ways to Help Product Innovators Find your Products
Documents – The Profile Page is designed to accommodate all types of documentation you have for your products. The greater the breadth of documentation, the more likely you are to pique the interest of the viewer.Prospector users want access to as much information as possible, so the more you provide, the better. In fact, 48% of Prospector users we surveyed indicated they would like to receive more testing data from suppliers.
Regions – This map illustrates which regions you've specified will have access to your product documents.
Categories – Work with our data team to determine the appropriate certifications and applications that are relevant for your product.Many products can be listed under multiple categories.
Where to Buy– This section provides users contact and website information about distributors of the product, telling them where they can go to purchase the product. If your company distributes the product, be sure to include contact information on your profile page. In addition, this section gives Prospector.com users the ability to request a sample of a product. According to a recent survey, users reported that the sample request feature was one of the most important on the site.
Regulatory Information– UL partners with third parties to provide users with relevant regulatory information on products. Paid users can view the regulatory portion of a product profile page. However, this is not something you need to provide us, UL has that regulatory info and will add it to your product page where applicable.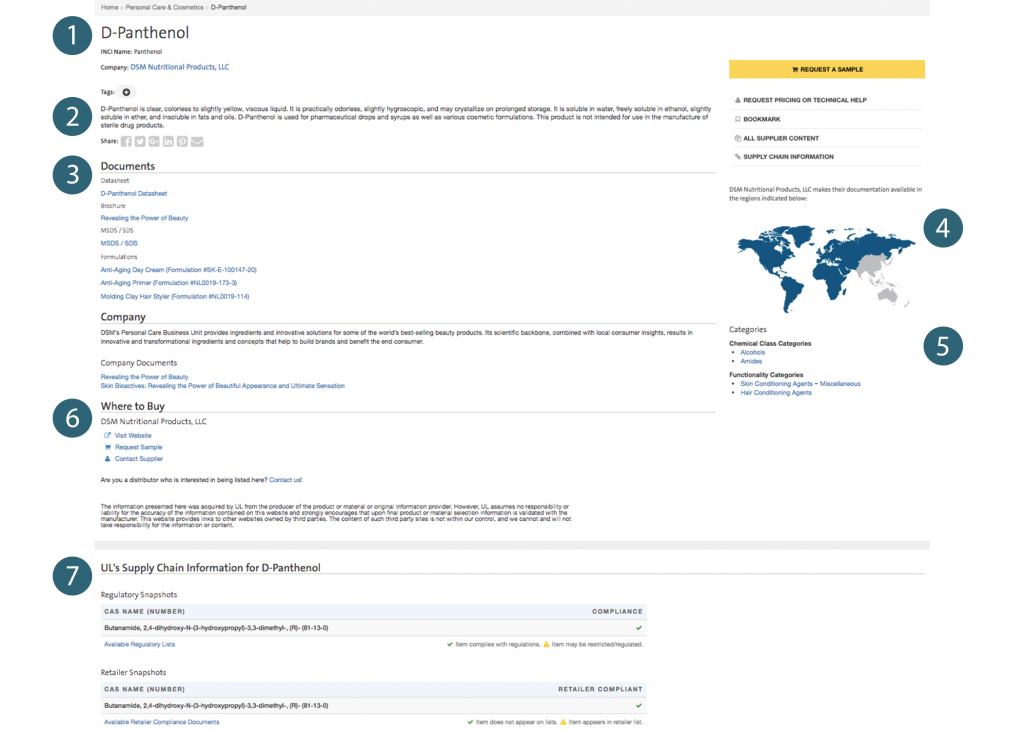 Ensuring that these Profile Page fields are complete and the content is optimized for search will help to ensure that your product names and descriptions are viewed both on Prospector as well as in general search engines. The product names and descriptions can be "seen," or indexed by search engine bots and will appear in search results for other general search engines. This feature helps to extend the reach of your product names and descriptions.
(In order to provide you with qualified sales intelligence around your products' activity, datasheet views and sample requests do require a user to log into Prospector.)
The Prospector team is here to help you optimize your Profile Pages. Contact your account manager or email [email protected] for more information.