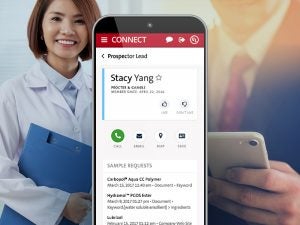 UL's lead generation tool, Connect, helps you identify when qualified buyers are viewing your products on ULProspector.com in real time. Hundreds of thousands of chemical buyers use ULProspector.com to research raw materials.  With Connect, you can discover when decision makers look at your products and technical documents. You're provided all the information you need to prioritize and follow up on the business leads.
So what exactly does Connect have to offer your company?  And what makes it different from other lead generation products?
Identify Engaged Buyers
Connect helps you identify decision makers who are looking to purchase raw materials. When Prospector users view your products or technical datasheets on ULProspector.com, Connect will notify you with details about their activity. Additionally, Connect delivers you all the information necessary to take action. Connect provides full contact information on the user who viewed a certain product, including their name, email address, phone number, company, title, and location.
How Connect stands out from the rest:
The prospective buyers in Connect are verified industry professionals who are actually looking at your products. All registered Prospector users are vetted, ensuring they are industry professionals with valid business contact details. Also, the majority of Prospector users are in departments and roles directly involved in purchasing raw materials. Our verification process and real time viewing history makes the buyer interest in Connect far more valuable than a traditional lead list.
Manage Potential Buyer Interest  
Available to you 24/7 on any Internet connected device, Connect provides you with ways to manage leads with flexibility and ease. Connect allows you to create groups in order to organize your data- grouping leads based on location, company, and industry. You can view contact information for individuals in those groups, and share groups with others inside or outside of your organization. Many customers use this feature to share leads within and across internal sales teams or with distributors. To help prioritize leads, Connect has features to favorite or flag individuals who you would like to closely monitor, or rank higher in your feed. New features are constantly being added to Connect to enhance your team's productivity and ensure you never miss a top opportunity.
How Connect stands out from the rest:
Real time data and flexible tools set Connect apart. When someone is looking at your products, you're sent the intel in real time. You don't have to wait for batch processing or a certain day of the month to be notified of someone's interest. When someone is in a buying mode, being able to contact them while they're still interested is vital.
Flexible tools mean that you can receive sales intelligence in a way that is meaningful to your organization. Group leads by your assigned territory, companies of interest, or flag leads that are especially meaningful to trigger Connect to prioritize these types of leads in the future. You don't have to spend hours of IT time to ensure Connect works efficiently for you,
Maximize Business Results  
Connect also allows you to identify trends and opportunities for your company. The analytical features within Connect allow you to view macro trends about people and companies who are searching for your products. This extremely flexible functionality has a number of uses, including identifying key geographic markets, frequently searched products, top sample requests, top traffic sources, and top companies looking at your products. Use the data to inform marketing campaigns, update copy to incorporate top performing keywords, or focus your sales teams on areas of opportunity. The analytical features in Connect allow you to analyze at a macro or micro level and specify date ranges for analysis with the click of a button. All findings can easily be exported to incorporate into business reports and presentations.
How Connect stands out from the rest:
The ability to easily evaluate trends specific to your company makes this tool invaluable. Knowing the who, what, when, where and how of your potential customers' product searches allows you to create and optimize sales and marketing campaigns and focus organizational resources. Flexibly analyze points of interest over time horizons of interest with no special set up or IT involvement. Data is available in real time- you never have to wait on a report from Connect, data is always available to you and up to date.
The actionable sales leads and insights that Connect provides you will drive current and future business and fill your sales funnel!