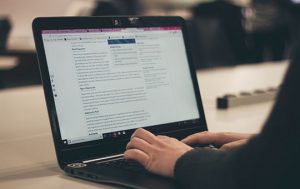 Often, customers know they have a problem, but they don't know how or what will solve it. A Prospector Sponsored Article gives you the opportunity to educate them and offer your products as a solution – all within the industry-recognized resource of our Knowledge Center.
How it works
You as the supplier provide the content for a Sponsored Article, and submit it to your Digital Media Coordinator (DMC). The Prospector team reviews the article and may make some edits or suggestions to optimize the piece for our audience.
Once approved, your DMC will provide a PDF preview of how the article will look in the Knowledge Center, and you'll have the opportunity to make final revisions or requests. Once you give the final approval, the article will publish in the Knowledge Center, and be promoted in our industry newsletter and on our social media channels.
We have compiled some best practices to ensure your Sponsored Article is effective at both engaging your target audience, and promoting your products. Sponsored Articles should…
Educate
While Sponsored Articles help showcase and ultimately direct readers to your product, the focus of the article should be education. Choose a subject which addresses a formulator problem or common experience, then showcase your expertise. Describe a scenario a chemist or formulator may often encounter, and offer potential responses or solutions, which can include your product(s). Or explain how several of your products differ, and best applications for their use.
An educational article could be in the form of a case study, research findings or a solution to a formulation challenge.
Examples:
Three challenges of formulating with mild surfactants
Finding the right mixer for processing paints and coatings
A designer's toolkit for plastic prototyping
Illustrate
While words can help describe and explain, images, diagrams, and charts can help further prove your point and solidify your credibility. Chemists and formulators love scientific proof, such as a chart indicating an increase in efficacy, or Before and After images. Pro tips:
Confirm you have the legal right to publish the images you include.
Send images along with instructions for where they should be placed within the content.
Accommodate
Keep in mind that your article will be read from a computer screen or mobile device. In fact, 30 percent of our visitors read articles on either a mobile device or tablet. Here are some tips to make your article web-friendly:
Keep the word count between 700 to 1,000 words
Include subheads and images to break up blocks of text
Use bullets to highlight important points that are easy to skim
Remember that the Prospector team is available to help you define your topic, make suggestions, and generally make the most of your Sponsored Article. Together, we can make sure your content reaches and engages your target audience, while also increasing awareness of all you have to offer.