Flexible and intuitive
UL Mobile Spy is essential for anyone in the mobile industry that needs to analyze the communication between mobile handsets and SIM/USIM cards or between M2M and Consumer RSP devices and eUICC.
UL Mobile Spy is an easy-to-use tool that translates and visualizes communication between handsets and SIM/USIM cards or contactless readers or M2M or Consumer RSP devices and eUICCs. It is a flexible and intuitive tool, providing the most complete translation available in the market today. The various views in UL Mobile Spy make troubleshooting fast and easy. Its in-built inspections even automatically help pinpoint problems.
UL Mobile Spy supports and translates ISO, GSM, 3G, CDMA, RFM/RAM over CAT_TP and SMS, HTTPS, SWP/HCI, Contactless/ NFC, MIFARE, GSMA eUICC, GlobalPlatform, and Mobile Payments standards. The core tool provides a basic ISO 7816 command translator with decoding of the T=0 and T=1 protocols over the ISO 7816 interface. It also includes several basic searches and a number of powerful core features such as translations, searches, filters, inspections and timeline. The translation modules each add a number of new searches, filters and inspections for a specific protocol when included in UL Mobile Spy.
Key benefits
Provides support for eUICC via dynamic decryption of active secure channels; SCP03, SCP80 & SCP81
Translates 3GPP Release 17 including 5G updates for TLVs, Envelopes, Proactive commands and file system
Evaluates interoperability between handset vs SIM or eSIM
Helps to assure quality through error detection
Enables clear, understandable communication between devices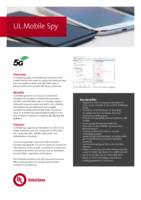 276.28 KB