Eliminates the need for a real SM-DP and SM-SR for testing
UL M2M Server Simulator is essential for anyone in the mobile industry that wants to load eSIM profiles onto M2M IoT devices or need to determine a root cause for eSIM profile interoperability but does not have a real SM-DP and SM-SR.
UL M2M Server Simulator loads eSIM profiles onto M2M IoT devices to verify that the device and the eUICC are interoperable compatible with the eSIM profile. It allows customers to quickly determine if there are issues with the device, the eSIM, or the actual eSIM profile itself.
UL M2M Server Simulator is an SM-DP and SM-SR simulator providing support for functions on GSMA ES5 and ES8 interfaces. ES3 is used internally by the tool but not exposed to the end-user. The tool provides a configurable set-up to load the SIMalliance profile with your own custom DP.ECDSA and SR.ECDSA certificates and keys, or with test certificates and keys used in SGP.11.
It also provides a templating engine that allows a profile template (or "dummy profile") to be provided as input, and for an actual profile including the metadata to be output, containing specific values particular to each profile subscription, e.g. EF_ICCID, EF_IMSI, EF_MSISDN, K-Key and OPC. The UL M2M Server Simulator provides different connectivity options for transport of the ES5 and ES8 traffic; the UL Network Simulator, Customer Network Simulator or the real cellular network.
Key benefits of UL M2M Server Simulator evaluation and verification
Eliminates the need to book test time on your real SM-DP and SM-SR platforms
Offers verification of ASN.1 syntax against different SIMalliance eUICC Profile Package versions
Loads SIMalliance profiles via RF Cellular connectivity on GSMA ES5 & ES8 interfaces
Manages M2M eUICCs and profiles via GSMA ES5
Verifies and evaluates interoperability between profiles, handsets and eSIMs quickly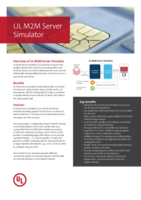 156.43 KB