CPR compliance testing for cables
The Construction Products Regulation (CPR) includes power, telecommunications, data and control cables manufactured for or imported into the EU and U.K. to be permanently installed in buildings.
The regulation provides unified requirements for reaction to fire performance for power, control, communications and optical fiber cables intended for installations in all types of construction works in all EU member states as well as England, Wales and Scotland.
To comply with the regulation, cables must meet strict testing and quality assessment requirements before they can be allowed to bear the CE marking (European Union) or the UKCA marking (England, Wales and Scotland) and be used in buildings.
UL Solutions has been extensively involved in all aspects of CPR testing for cables since it became mandatory on July 1, 2017. With this technical knowledge and expertise, the process is further streamlined for our customers globally, as we can perform testing, quality assessments and certification and help customers speed up their go-to-market in the EU and U.K. More concretely, it allows us to offer CPR testing and certifications services that enable CE, UKCA and UKNI marking on cables.
Because of our global reach, we can offer our customers testing and certification services for markets around the world. This reduces the need to seek local support elsewhere in the world, making the customer experience more seamless. 
Cable categories and CPR cable standards
Cables are categorized by seven performance classes based on their reaction to fire. Additional subclasses are available based on smoke production, flaming droplets and acidity.
Classes are defined by the Assessment and Verification of Constancy of Performance (AVCP) system ranging from 1+, initial type-testing and factory inspection and ongoing assessment of factory production control (FPC) with audit testing of samples by the notified product certification body, to the lowest AVCP System, 4, which only requires initial type-testing and FPC by the manufacturer. The system 1+ would be similar in approach to our Safety Certification Scheme.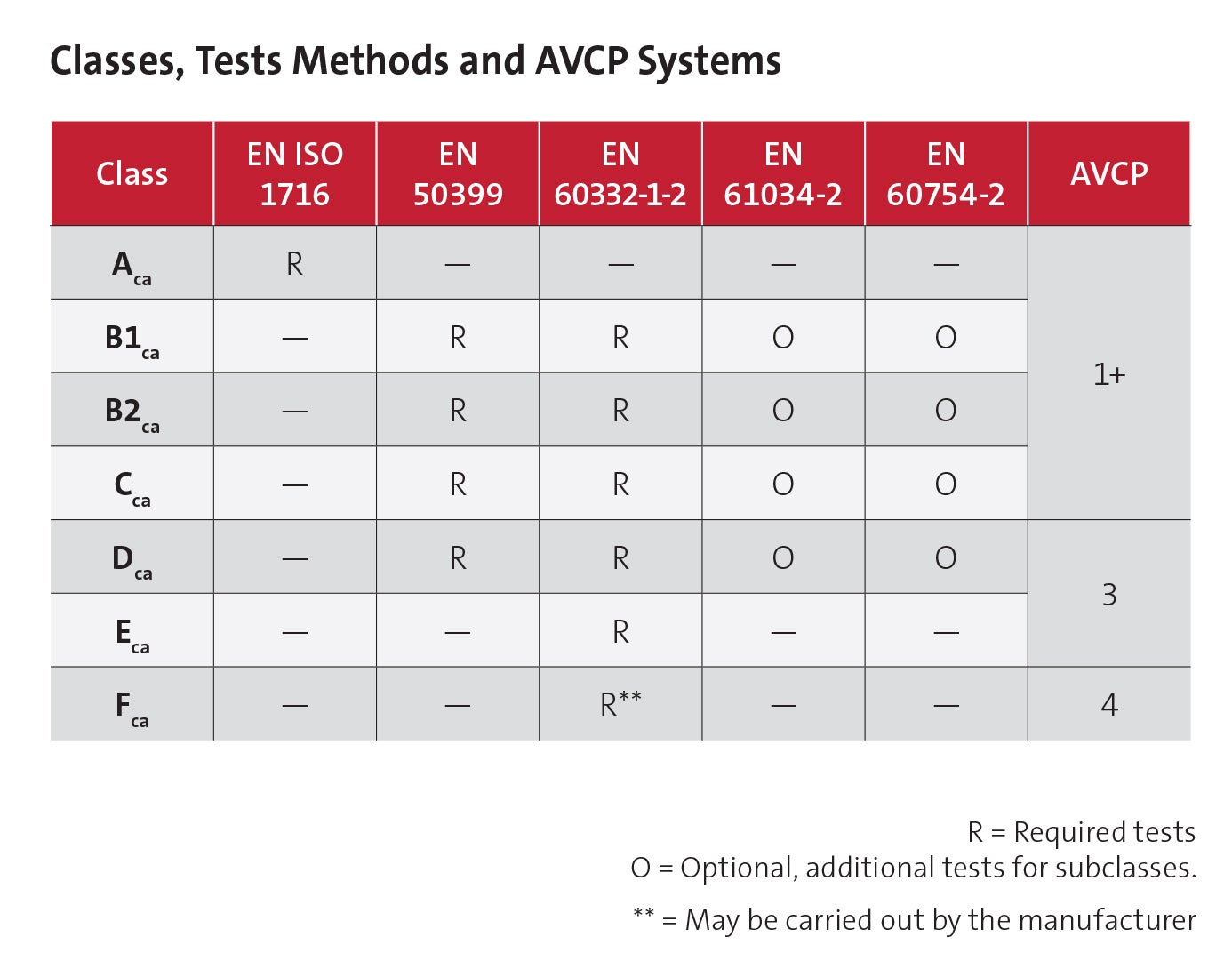 Benefits of CPR compliance testing for cables
Get seamless support from experienced engineers and technical experts locally, as well as in your target markets.
Gain recognition by leveraging our expertise in fire testing and global certification and our years of experience in conducting CPR testing.
Reduce time and cost by integrating with other global testing and certification requirements under our comprehensive service solution.