Although many countries around the world have offered instant or real-time bank payments for years, adoption by U.S. financial institutions (FIs) has lagged. To the shopper completing an online purchase in the U.S. with a few taps on their smartphone screen, online payments appear to be instantaneous. However, those funds take days to post and clear. Electronic person-to-person (P2P) platforms such as Venmo (from PayPal Holdings, Inc.) and Cash App (from Block, Inc.) can give the illusion of speeding up the process, but these intermediaries still interface with a slower banking system. 
The Federal Reserve (Fed) launched a platform that helps modernize the U.S. payments system. FedNow, the new instant payments platform is designed to enable FIs "to provide safe and efficient instant payments services."  FIs of all sizes will be able to join, but participation is not mandatory. More than 120 banks and credit unions participated in FedNow's pilot program, which was established in 2021. 
Unlike standard online transfers such as those through the Automated Clearing House (ACH) Network, which are processed in batches and typically take one to three business days to complete, FedNow will allow individuals and businesses to complete payments and transfers through participating FIs within seconds, 24 hours a day, seven days a week, 365 days a year.
FedNow's clearing and settlement process 
Payments between banks require clearing and settlement. During clearing, banks exchange information about a payment, and this process can include other activities such as checking for fraud. Settlement involves moving money to the recipient's account. FedNow enables clearing and settlement to be executed within seconds. The process includes the following steps1: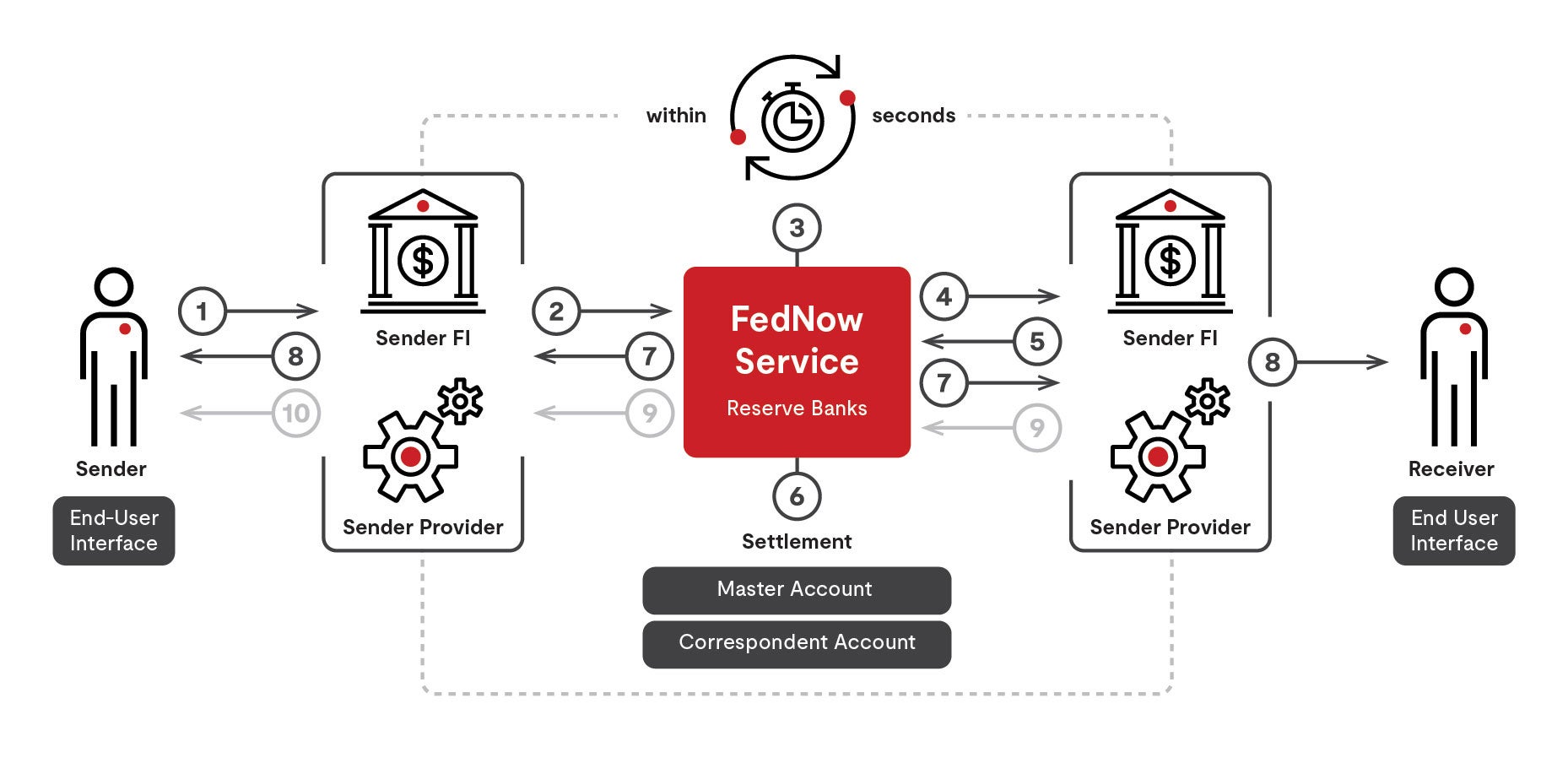 The sender of a payment initiates the payment through the end-user interface of their FI (Bank A) outside of the FedNow Service.
Bank A submits a payment message to the FedNow Service.
The FedNow Service validates the payment message and sends the contents of the payment message to the receiver's FI (Bank B).
Within seconds, Bank B sends confirmation that it intends to accept the payment message.
Bank B can verify the payment beneficiary details.
Upon successful confirmation, Bank B sends a response to the FedNow Service confirming that it intends to accept the payment message.
The FedNow Service debits the designated master account at Bank A and credits the accounts at Bank B.
The FedNow Service sends advice of credit to Bank B and a settlement confirmation to Bank A.
Outside of the FedNow Service, the payment sender's and recipient's account statements at Bank A and Bank B, respectively, will reflect the transaction.
FedNow Service and ISO 20022
The FedNow Service's message specifications are based on the International Organization for Standardization (ISO) 20022 standard, ISO 20022, a multipart standard written by ISO Technical Committee TC68 Financial Services. It includes a common dictionary of business terms used in financial communications and a standard methodology for financial business transactions and their related message flows. Its messaging format facilitates global financial networks and systems' interoperability and efficient communication, data exchange and payment processing. Through FedNow and other systems that leverage ISO 20022 messaging specifications, FIs can support faster payments, take advantage of the evolving capabilities that become available with use of the standard, and enhance the efficiency of their processes and procedures.
FIs can access the Swift MyStandards® platform to review ISO 20022 FedNow's message specifications, message flow diagrams, an implementation guide, and other tools for FIs and other payments service providers planning to integrate their systems with the FedNow Service.
"Our work with payments industry stakeholders revealed significant support for developing our messaging specs in close alignment with the ISO 20022 messaging standard to enable broad interoperability, end-to-end efficiency of payments and future innovation on top of the FedNow platform," stated Nick Stanescu, senior vice president and business executive at FedNow. "Our adherence to the core of the ISO 20022 standard means more opportunities for implementation across products and market segments."
Comparing FedNow, RTP®, Venmo and Cash App
In 2017, The Clearing House (TCH) introduced the RTP real-time payments platform. As of mid-2023, the RTP® network payment rail currently reaches 65% of U.S. demand deposit accounts (DDAs).  FIs of all sizes can leverage the RTP network's capabilities to innovate digital services for their customers.
Although FedNow and RTP are both real-time payment systems and offer similar features — such as transaction limits, around-the-clock operating hours, transfer types and transfer finality — they operate on different payment rails. FedNow uses the FedLine network and RTP uses the RTP network. FIs do not need to choose between FedNow and RTP; they can participate in both networks.
Another difference between the two systems is that FedNow is a public service offered by the Fed, whereas RTP is a private service offered by a group of large banks. While FedNow will work with participants' Federal Reserve accounts, RTP's pre-funded model holds reserves in a joint account for all participants at the Federal Reserve Bank of New York.
The Fed has made it clear that FedNow is not intended to cannibalize the existing systems built by the private sector, such as Venmo, Cash App, and other money transfer options. Instead, it is meant to work alongside them. RTP and FedNow both adopt ISO 20022, and this commonality supports interoperability between the two systems while offering an additional payment rail option for FIs, credit unions, and indirect participants.
Impacts of FedNow
FedNow creates opportunities for FIs to adapt strategically to a rapidly evolving payments landscape and to expand their real-time capabilities sooner rather than later. With FedNow, FIs can offer instant payments to payment aggregators and the broader fintech sector. FedNow encourages innovation and competition to provide greater benefits to end consumers. The launch of FedNow ushers in a widespread shift in demand with an increased emphasis on payment efficiency and customer experience.
Why choose UL Solutions for instant payments implementation services and tools
UL Solutions supports our customers with building trusted security, compliance and interoperability into their local and global operational infrastructures globally. We leverage our deep knowledge of traditional and smart payments to help FIs overcome the challenges of instant payments and navigate the path to successful and confident adoption.
Additionally, we provide customers with an efficient, cost-effective, automated testing process. We offer advisory, testing and certification services, security evaluations, and test tools to support you during the full product life cycle, product development, or while implementing new technologies. Contact us today to learn more about our real-time and instant payments implementation services and tools or to discuss your specific needs with our experts.
X
Get connected with our sales team
Thanks for your interest in UL's products and services. Let's collect some information so we can connect you with the right person.