Overview
The food and beverage industry is more competitive than ever. From restaurants to hotels, convenience stores to grocery chains, companies can build more trust in their brands when they take additional measures against foodborne illness. By leveraging UL's Everclean® solutions, you can set your brand apart and protect your reputation through a rigorous food safety and sanitation program. After all, it only takes one unsafe incident, in one location, to destroy an entire brand.
Our goal is to educate your company by offering a dedicated account and audit team trained to meet your standards and needs. Our independent and objective audit team offers you operational flexibility and industry-leading customizable audits. We provide responsive reporting and analytics designed around your business needs.
 
Benefits
Our partnership approach to help you meet your food safety and sanitation goals begins with assessing your specific needs.
Food safety audits, advisory services and training
We can provide you with solutions such as:
One-time or routine food safety and sanitation audits
Virtual Guided Audit™ (VGA) of your facility conducted via livestream, and performed in between routine visits to enhance your food safety and sanitation program
Behavioral audits for employee hygiene
Hazard analysis and critical control points (HACCP)
Advisory services such as crisis management, supplier audits, organic audits, ingredient label review, pest audits, price accuracy and weights and measures
Handwashing clinic
Food safety trainings
Emergency Response Assessment™ for Food Safety and Sanitation
During a crisis, companies must adapt quickly to guideline changes to help keep your employees and customers safe.
UL's Emergency Response Assessment (ERA) solutions identify areas to improve food safety and sanitation. Plus, our flexible technology allows you the option to receive a virtual audit in the event an in-person visit isn't possible.
UL Verified Mark for Food Safety Practices Verified
UL's Marketing Claim Verification is an objective, science-based assessment that confirms the accuracy of marketing claims. Successful verification of a "Food Safety Practices Verified" marketing claim through our Everclean audits result in the issuance of a Verified Mark which you can proudly display at your place of business.
Letting your customers know that your marketing claim is now UL Verified gives you an advantage over competitors with self-declared claims. The UL Verified Mark can be used in promotions, advertising, public relations outreach and social communications to build buzz with current and prospective customers.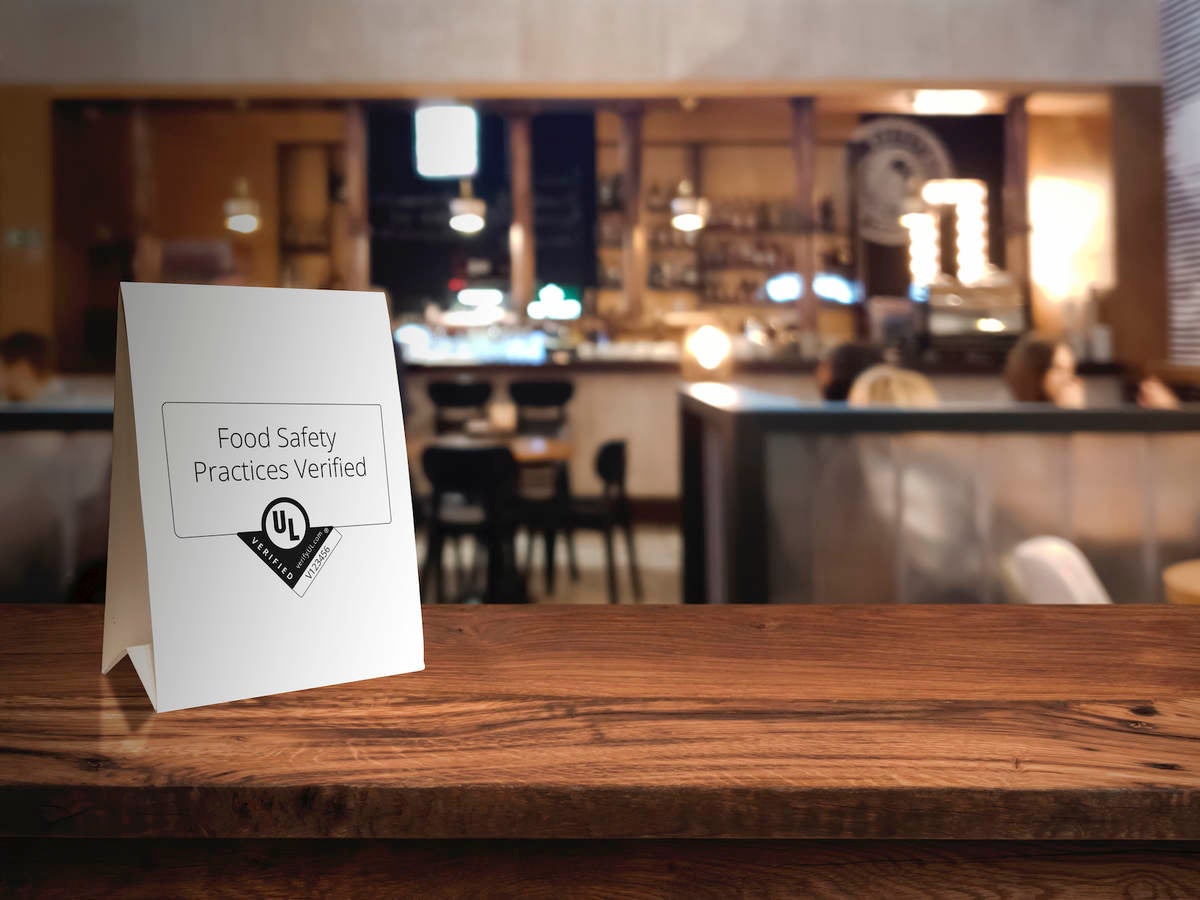 Why UL
A respected leader in food safety audits, UL conducts more than 65,000 food safety and sanitation audits each year across the United States. Food service operators and consumers alike trust our expertise in the industry. 
Our experienced team of auditors include credentialed food safety professionals, such as  Certified Professionals in Food Safety (CP-FS), Registered Sanitarians (RS), and Registered Environmental Health Specialists (REHS). 
Our comprehensive web-based portal offers data analysis, reporting, and project status visibility. Our proprietary software integrates with many client systems so you can access inspection information, data insights and violation details as you need it.