Have you ever wondered what it's like to work at UL? We spoke with Guy Tremblay, senior business development manager for our Building Envelope team, to find out.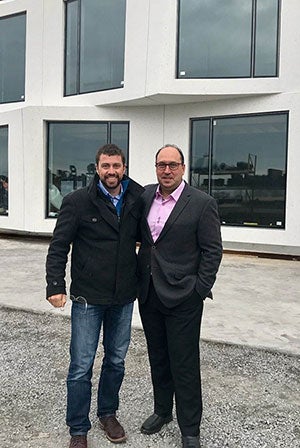 What drew you to UL?
 
The two main drivers for me were the people and the opportunity.
I had been familiar with UL for many years, working with Mario Gonçalves, one of UL's directors of Business Development, on various projects for more than a decade. We developed "lunch and learn" presentations on building science and precast concrete for architects, general contractors and developers in New York City. Our combined expertise made us a good team. UL offers a wide range of services within the built environment, so my experience in building science made UL a good fit. 
There are a lot of opportunities available for me here, both personally and professionally. I have always been eager to learn about other trades. UL provides opportunities to extend my knowledge on the building envelope. I can then make my own experience available to others. 
Additionally, there are a lot of developing markets for building science in the Americas and worldwide. I am excited to see where we can help customers make their buildings safer and more sustainable. 
What does UL's work environment offer?
 
UL is committed to corporate citizenship and social responsibility. This mission is carried forward in day-to-day operations. Great corporate values define great business relationships. UL invests in its people and encourages them to invest in themselves. Doing so, it creates a healthy work environment where people can grow with guidance and excel. When I look at my colleagues and co-workers, I see a lot of experienced professionals engaged in their respective fields. 
 
How does UL approach its customers?
 
Customers are looking for added value. When they reach out for technical services, they want professionals who can help a project succeed. The construction industry is changing quickly. It can be challenging to find experienced professionals. With more than 125 years, and with passionate and dedicated staff, UL has the expertise and integrity they need. 
UL approaches customers by working with diligence and focusing on quality. Its expertise and integrity are what inspired me to join the team!
Guy Tremblay supports our service offerings and growth across Eastern Canada and the Northeastern United States.
Are you interested in our Building Envelope services? Learn more about how Tremblay and our experienced Building Envelope team can help you achieve your goals.