The UL Additive Manufacturing and UL Japan teams are looking forward to seeing you at TCT Japan, January 30 – February 1 in Tokyo. The inaugural event is a result of a partnership between JTB Communication Design, Inc. (JCD) and The TCT Group. The event promises to deliver deep technical knowledge and application studies in AM to the ever growing number of professionals in the Japanese manufacturing industry to drive greater adoption across all industry sectors.
Before your conference itinerary is full, make time to attend the our own Dr. Khalid Rafi's presentation on navigating the AM standards landscape. Details are provided below.
Presentation: Navigating the standards landscape to accelerate industrialization of additive manufacturing

Date: Thursday January 31, 2019

Time: 11:30AM – 12:00PM Local Time

Where: Conference Tower (609)
Abstract
The introduction of Additive Manufacturing (AM) technologies has the potential to transform modern industrial production, but it also brings new considerations for the manufacturers. Product redesign, reduced tooling costs, replacement parts and supply chain redesign are only a few of the benefits this technology brings to manufacturing. While existing standards are sufficient for traditional manufacturing techniques, they do not address the new quality and safety risks introduced with AM.
This presentation will provide an overview of how existing standards / standards under development for AM, and industry best practices can be effectively used to accelerate the industrialization of AM in terms of Materials, Process, End product, Equipment & Facility Safety.
Presentation Outline:
Overview on current standards development initiatives for AM (International/National)

Selection and Application of standards for AM - Industry Best Practices

Materials : Plastics and metals – Chemical, physical, and thermal characteristics

Equipment : Electrical safety, laser safety, and functional safety

Process: Reliability, repeatability , and reproducibility

Parts: Establish performance characteristics

Facilities : UL3400 and an approach to Facility Safety Management

End Products : Standards and testing considerations for functionality/regulatory  requirements for industry specific applications – eg: Medical and Aerospace applications

Gap analysis for standards in AM
Speaker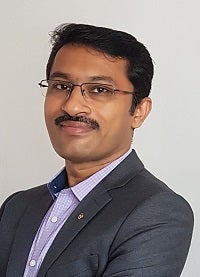 Dr. Khalid Rafi, Additive Manufacturing Lead Development Engineer
Dr. Khalid Rafi has over 17 years of Training and Research experience and is one of the few established metallurgist in additive manufacturing. He serves as a participating member in various international/national standard development committees such as ISO/ASTMF42, ASME, SMF-SDO and member of certification oversight and appeals committee of Society of Manufacturing Engineers(SME), USA. He has authored over 40 research papers in reputed international journals and conference proceedings.  He works very closely with Additive Manufacturing Industry as a consultant and as a collaborator in various projects. Dr. Rafi has received a Masters and Ph.D in Metallurgy and Material science, from Indian Institute of Technology Madras and Research Fellowships from University of Louisville, USA and NTU Singapore.